Our wire partition solutions are versatile and affordable.
Do you have a need to partition off certain areas of your workspace? Wire partitions offer safety and security in many workplaces. They are an affordable way to section off parts of a warehouse or create lockable storage areas to protect property and workers. The different uses and possibilities are endless.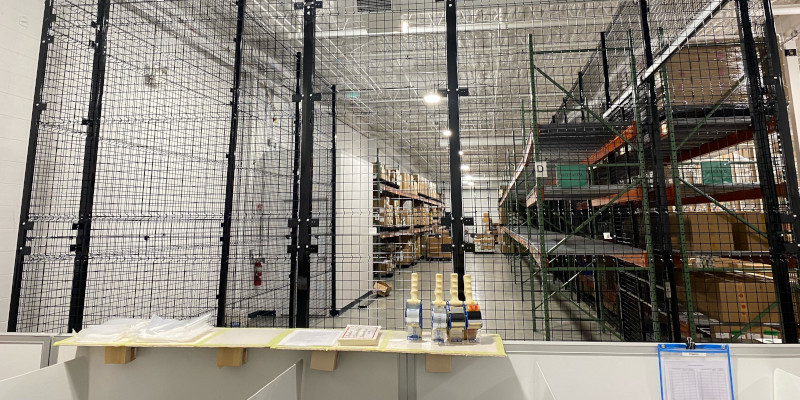 If your business requires the storage of items under lock and key, wire partitions are ideal. More affordable than building solid walls, wire cage material allows for airflow in and out of the storage area for easy climate control. Some uses for wire storage cages include:
DEA drug storage. DEA-controlled substance wire storage cages meet all U.S. Drug Enforcement Administration's security requirements for Schedule III through V controlled substances as outlined in Title 21 CFR Sections 1301.72-1301.76 physical security controls. These cages are used for medical facilities, drug warehouses, pharmacies and pharmaceutical companies, record storage, and more.
Storage lockers. Our wire storage lockers provide versatile and safe storage for retail, industry, and tenants and are perfect to help reduce inventory shrinkage in industrial and commercial settings. Their heavy-duty construction makes our lockers more durable than sheet metal lockers.
Data center wire enclosures. The 6-gauge welded wire cage material is both sturdy and attractive, with varying colors, features, and security measures to meet your needs. Whether for shared data center environments or independent networking facilities at corporate offices and universities, these enclosures offer the highest level of security.
Holding cells. These holding cell partitions are used to build prisoner holding cells in correctional and detention centers across the country. The versatility of the wire partitioning system makes it easy to configure cells to meet your needs.
Aerosol cans wire partition security cage. Aerosol cans in warehouses present a dangerous storage issue. Code regulations now say you need a security cage surrounding the storage area of aerosol cans. Our wire cages can reach 32' high or higher in your warehouse and even be tapered at the top to follow the contour of the roof line.
Contact us at Carolina Material Handling Inc. today to learn more about our options for wire partitions.
---
At Carolina Material Handling Inc., we supply wire partitions to businesses in North Carolina, South Carolina, Tennessee, Florida, Indiana, Wisconsin, California, Illinois, Virginia, and Georgia.
Similar Services We Offer: