Hand Truck Central from Carolina Material Handling
The largest selection of Heavy Duty Aluminum Distribution and Warehouse Trucks Ship Quickly from our Warehouse!


Gemini Sr. Convertible Hand Truck

MT111 6 Wheel Magline Platform Truck

B&P Hand Truck Model A7-B1-C6-D6SS Aluminum Hand Truck

B&P Hand Truck Stair Climbers E1L
Magliner Hand Trucks and B&P Hand Trucks, for any purpose.
| | | | | |
| --- | --- | --- | --- | --- |
| PART # | DESCRIPTION | CAPACITY | WEIGHT | PRICE |
| HTGK1839 | Magline GEMINI JR. Convertible Hand Truck 500# Capacity as Hand Truck: 1000# Capacity as Platform Truck; With 10″ x 3.5″ Pneumatic Wheels; w/Precision Ball Bearings and 5″ x 1.25″ Swivel Casters; 21″ overall width x 51″ overall height; 12″ wide frame; 38″ long as platform truck; 40″ overall height as platform truck; 10.5″ platform height from floor; TWO YEAR WARRANTY 18″ x 7.5″ long nose plate. Any wheel option. Made in the USA. | 500# | 44# | $439.00 |
| HTGK9589 | Magline Gemini SR. Convertible Hand Truck 500# Capacity as Hand Truck: 1000# Capacity as Platform Truck; With 10″ x 3″ Pneumatic Wheels; w/Precision Ball Bearings and 5″ x 1.25″ Swivel Casters; 21″ overall width x 61″ overall height; 12″ wide frame; 51″ long as platform truck; 45″ overall height as platform truck; 10.5″ platform height from floor; TWO YEAR WARRANTY 18″ x 7.5″ long nose plate. Any wheel option. Made in the USA. | 500# | 45# | $459.00 |
| MT111 | 6 Wheel Magline Platform Truck 1500# Load Capacity; 23 1/4″ Deck Size; 39″ Handle Height; 30 7/8″ Removable Extension; Four 5″ rubber Swivel Casters with Brakes; Two 8″ Ballon Cushion Wheels. | 1500# | 50# | $715.00 |
| A7-B1-C6-D6 | B&P Aluminum Hand Truck Straight Loop Handle w/Vertical Grip;Standard Straight Back Frame, No Strap; Front Mount, Extruded Aluminum 18″ x 9″ Nose Plate; Carefree, Poly Tread, Non-Marking, 10″ x 3″ Wheels ; 600 lbs. Capacity; Overall Height: 52″ Add extruded aluminum stair climbers for an additional $46.00 | 600# | 25# | $265.0 |
Featuring B&P and Magliner hand trucks built from aluminum and magnesium. Strong & lightweight.
B&P Hand Trucks are used by, Frito-lay, Pepsi and Coke, as well as liquor stores, beer and wine distributors and super markets, Magliner and B&P hand trucks are ideal for the food and beverage industry. B&P and Magliner, are the world leaders in aluminum hand trucks, and have been in business for over 50 years. Each of these light weight aluminum hand trucks can carry up to 500 pounds and most weigh less than 25 pounds. With more than 3,500 different combinations we are certain we can help you design a B&P or Magliner hand truck to fill your needs.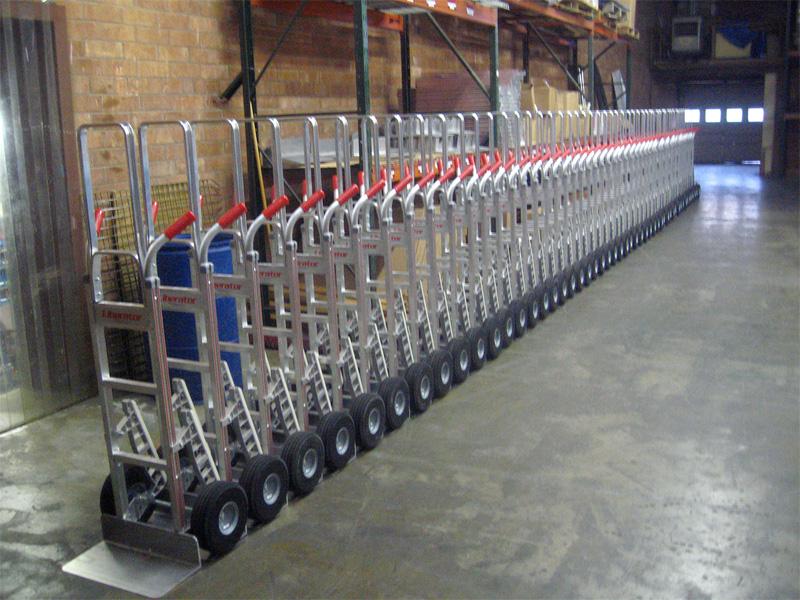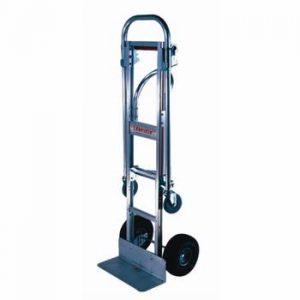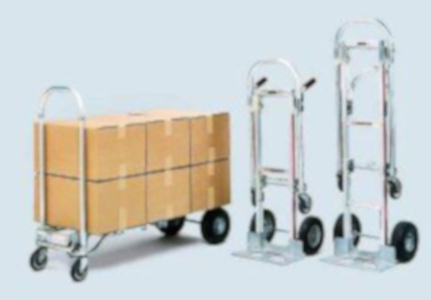 Magliner Gemini Hand Trucks
Gemini Jr, Gemini Sr & Gemini XL
Lightweight hand truck, high strength aluminum construction, properly balanced to assure easier wheeling and positive load control Magliner Gemini Hand Trucks.
Big 10″ full pneumatic tires provide smooth, easy rolling over all surfaces indoor and outdoor Magliner Gemini Hand Trucks.
4 wheel truck for those large, bulky loads; easily converts to a 2 wheel cart for smaller stops.
In down position, and extra platform is provided for increased load capacity.
Extra wide, cast magnesium nose plate.
All parts are replaceable, no welding.
Heavy duty aluminum deck plate is a great addition so smaller packages don't fall through when the truck is expanded to 4 wheel.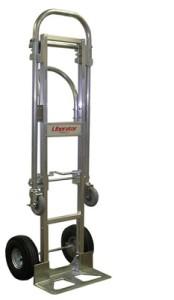 B&P Manufacturing Hand Trucks
Extruded aluminum construction absorbs impacts better than castings
Weighs far less than steel, great lightweight hand truck
Frames are rated at an actual 600lb capacity
Crossmembers are attached with aircraft grade rivets to resist loosening over time
Nose plates are constructed of non-cracking, high strength extruded aluminum
Standard high tensile steel axle won't bend or fatigue under heavy loads
Longer lasting extruded stair climbers with heavy duty wear strips
Lifetime warranty on axle brackets
Steel Hand Trucks
With a 5 year guarantee against weld failure, and Wesco quality exclusive Industrial strength heavy duty schedule 40 pipe frame construction. Ribbed cross braces for extra strength. All joints are double welded. 8″ deep x 14″ wide nose is 7 gauge thick plate with machined beveled edge and radiused corners for safety. Zinc plated Auto-Loc® axles assure smooth wheel rotation. All hand truck frames handle 8″ or 10″ wheels. Orange enamel finish. Vinyl handle grips are standard on appropriate frames. MADE IN USA
B&P Aluminum Hand Trucks
We offer exclusive warranties and unique designs that can't be found anywhere else.
Carolina Material Handling stocks B&P hand trucks that are superior in quality and durability because we use the highest strength aluminum, strongest rivets and most advanced manufacturing processes. Simply put, CMH supplies the best built and best backed material handling equipment in the industry.
B&P Aluminum Convertible Hand Trucks
Frames are constructed with aircraft grade cherry rivets that resist loosening. Crossmembers are four-sided tubes with two sides ribbed for added strength. Lock latch assembly is engineered from steel to last – One piece lock bar won't break. Simple design latch assembly with minimal moving parts for maximum reliability – Smoothest release action in the industry. Critical components are steel, not plastic for long life. Heavy duty high tensile steel axle will not bow under maximum loads. Balloon cushion caster wheels provide better rollability (wing brake standard on one wheel). Modular design allows you to customize your Liberator to your specific application.
MAGLINE Aluminum Convertible Hand Truck
Lightweight, high strength aluminum construction. Any wheel option available. All parts are replaceable. Easily converts from 2 wheel to 4 wheel platform truck.
Find the Right Hand Truck for Your Work
Carolina Material Handling carries many different hand truck and custom cart options. We offer aluminum, folding, heavy duty, medium duty, shovelnose and steel hand trucks. Whether you are looking for moving equipment for your warehouse, home or other location, we have something to match your needs.
We offer numerous aluminum hand trucks to choose from, as well as the ability to build a custom hand truck depending on your specific needs. Available are several heavy-duty components to choose from to design your personalized hand truck. Your choices are based on your individual needs and safety considerations from the size, type, and weight of your loads. The aluminum carts are available with curved, loop, pin or double handles, with weight accommodations ranging from 500 to 750 pounds. Aluminum hand trucks are also available with or without brakes.
Folding trucks are not only super simple to use, but they also save time and labor. They feature durable steel construction on some models. You can also opt for the non-slip decks and rubber safety bumper guards. These types of hand trucks are commonly used in furniture industries but can be beneficial to many other types of businesses. We sell them in compact, heavy duty, and superlite types.
The medium-duty carts we carry offer strength and durability for many different transporting duties. A 300-pound capacity is perfect for day to day work. These carts are featured with durable, seamless rolling wheels and come with several handle options that can include a hydraulic lift option.
Our heavy-duty hand trucks come in folding, aluminum, and convertible options. Many of these offer a 500-pound load capacity and optional straps. You'll find that heavy-duty trucks offer easy handling for everyday industrial-duty use.
Shovelnose hand trucks are designed with a plate to make getting under loads easier and come with a tough powder coat finish and zinc plated axle. All wheels have ball bearings on our 4 wheel nose truck options allowing for an 800-pound moving capacity.
Steel hand trucks can be folding, medium or heavy-duty and shovelnose. Dual handle and chair trucks are made with steel. While steel is heavier than its aluminum counterpart, it can handle larger loads with ease. Common benefits of steel hand trucks are that they are able to move large industrial equipment and several loads with fewer trips. Some steel dollies can carry up to 1,000 pounds.
Whatever your hand truck requirements are, Carolina Material Handling has a solution. We carry many different types of moving equipment to suit your everyday needs. We are available to answer any questions and discuss what options suit your business and industry the best. We have locations in Virginia, North Carolina, South Carolina and Georgia for your convenience.
Similar Services We Offer: