Our team offers a variety of industrial shelving options to suit your needs.
Whether you are looking for shelving for your business, warehouse, or home/garage, our team at Carolina Material Handling Inc. has what you need. We carry steel, mobile, wire, and rivet shelving. Not sure what type of storage cabinets or shelving units are right for you? Our experienced and knowledgeable staff can help. With a wide variety of options to choose from, you are sure to find the right shelving units suitable for your needs.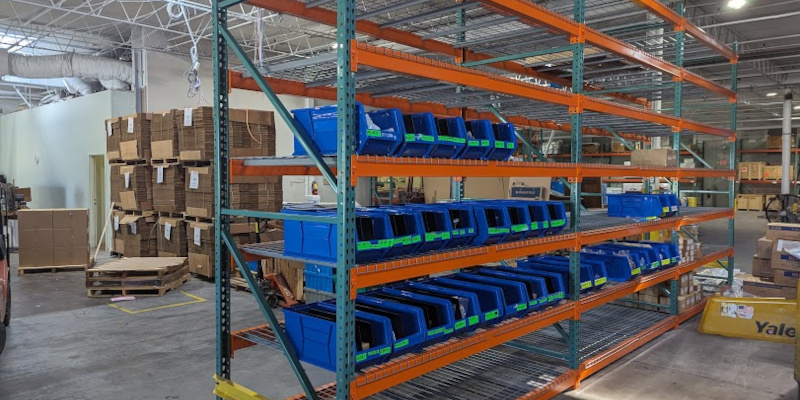 The shelving options we offer include (but are not limited to):
Rivet Shelving – This type of shelving is quick and easy to assemble, requiring very few tools. It can also be adjusted with a high degree of precision, allowing you to configure your shelving to suit your exact needs. In addition, rivet shelving has a weight capacity of 1,850 pounds per shelf level, which makes it ideal for industrial storage.
Steel Shelving – We offer both open and closed steel shelving. Closed shelving units have metal panels at the sides and back, while open shelving units use back braces to give the structure stability instead. Each option has its own advantages—for example, open shelving is great for air circulation, while closed shelving prevents items from falling off the back or sides of the unit—and you can count on us to help you decide which is right for you.
Mobile Aisle Shelving – Mobile aisle shelving is designed to waste as little space as possible, maximizing your available storage area. With stationary shelves, you must leave space around each unit in order to access its contents, but mobile aisle shelving allows you to eliminate most of the aisle space. Each shelving unit can be moved using a specialized drive system—most of the time, the units will be flush against one another, but when you need to access one, you can simply use the drive to move them apart.
If you want to know more about our shelving options, simply give us a call to speak to one of our team members.
---
At Carolina Material Handling Inc., we supply shelving to businesses in North Carolina, South Carolina, Tennessee, Florida, Indiana, Wisconsin, California, Illinois, Virginia, and Georgia.
Similar Services We Offer: