Specs And Pricing
| Part Number | Description | Length | Weight (lbs) | Color | Price Each | Quick Ship Locations |
| --- | --- | --- | --- | --- | --- | --- |
| CS-1 | 18" High Single Rail Center Post 4.75" x 4.75" x 3/16" steel post; 10"x 10" x ½" thick base plate; Includes (4) ¾" x 4.25" Concrete Wedge Anchors | 18" High | 37# | Powder Coat Safety Yellow | $155.00 | Florida, Wisconsin |
| CS-2 | 42" High Double Rail Center and Corner Post 4.75" x 4.75" x 3/16" steel post; 10"x 10" x ½" thick base plate; Includes (4) ¾" x 4.25" Concrete Wedge Anchors | 42" High | 58# | Powder Coat Safety Yellow | $205.00 | Florida, Wisconsin |
| GR-2 | 2' Long Rail (19.28" actual length) 1/8" thick steel double ribbed; Includes (4) ½" x 1" long grade 5 attaching bolts | 24" center/center of Post | 16# | Powder Coat Safety Yellow | $102.00 | Florida, Wisconsin |
| GR-3 | 3' Long Rail (31.28" actual length) 1/8" thick steel double ribbed; Includes (4) ½" x 1" long grade 5 attaching bolts | 36" center/center of Post | 24# | Powder Coat Safety Yellow | $113.00 | Florida, Wisconsin |
| GR-4 | 4' Long Rail (43.28" actual length) 1/8" thick steel double ribbed; Includes (4) ½" x 1" long grade 5 attaching bolts | 48" center/center of Post | 33# | Powder Coat Safety Yellow | $136.00 | Florida, Wisconsin |
| GR-5 | 5' Long Rail (55.28" actual length) 1/8" thick steel double ribbed; Includes (4) ½" x 1" long grade 5 attaching bolts | 60" center/center of Post | 43# | Powder Coat Safety Yellow | $162.00 | Florida, Wisconsin |
| GR-6 | 6' Long Rail (67.28" actual length) 1/8" thick steel double ribbed; Includes (4) ½" x 1" long grade 5 attaching bolts | 72" center/center of Post | 53# | Powder Coat Safety Yellow | $170.00 | Florida, Wisconsin |
| GR-7 | 7' Long Rail (79.28" actual length) 1/8" thick steel double ribbed; Includes (4) ½" x 1" long grade 5 attaching bolts | 84" center/center of Post | 62# | Powder Coat Safety Yellow | $203.00 | Florida, Wisconsin |
| GR-8 | 8' Long Rail (91.28" actual length) 1/8" thick steel double ribbed; Includes (4) ½" x 1" long grade 5 attaching bolts | 96" center/center of Post | 70# | Powder Coat Safety Yellow | $208.00 | Florida, Wisconsin |
| GR-9 | 9' Long Rail (103.28" actual length) 1/8" thick steel double ribbed; Includes (4) ½" x 1" long grade 5 attaching bolts | 108" center/center of Post | 76# | Powder Coat Safety Yellow | $228.00 | Florida, Wisconsin |
| GR-10 | 10' Long Rail (115.28" act. length) 1/8" thick steel double ribbed; Includes (4) ½" x 1" long grade 5 attaching bolts | 120" center/center of Post | 84# | Powder Coat Safety Yellow | $246.00 | Florida, Wisconsin |
| LOA | Lift Out Cuff Bracket (Order 2 Cuff Brackets per Rail) Bolts Directly to Guard Rail Post | 12" high x 4" wide | 12# | Powder Coat Safety Yellow | $66.00 per Pair | Florida, Wisconsin |
| BCRH75425 | ¾" Diameter x 4 – ¼" Long Concrete Wedge Anchors | 4.25" | .6# | Zinc Plated Silver | $2.75 each Anchor | Florida, Wisconsin |
| SG-3654A | Pedestrian Swing Gate Adjustable 36" – 54" for Double High Guard Rail | 36" – 54" | 20# | Powder Coat Safety Yellow | $700.00 | Florida, Wisconsin |
| AA-45 | 45 Degree Angle Rail Adapter | | 10# | Powder Coat Safety Yellow | $50.00 | Florida, Wisconsin |
We offer strong, durable guardrails to help you maximize workplace safety.
At Carolina Material Handling Inc., we have worked extensively with commercial, institutional, and industrial clients, and we understand the challenges of dealing with heavy foot traffic in your facility. We take workplace safety very seriously, and we know how easy it is for people to slip, fall, or run into each other (or into equipment) on a busy floor. To help you prevent accidents in your facility, we offer high-quality guardrails.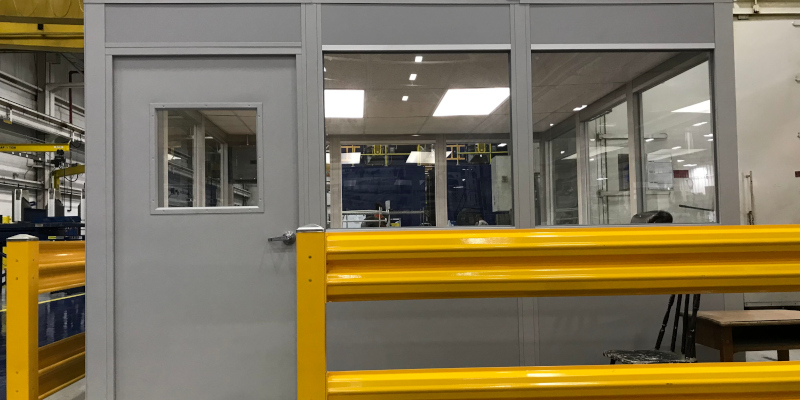 A few defining features of our guardrails include:
Strength and Durability – Our guardrails are extremely durable, and each one is designed to withstand the impact of an up to 10,000-pound load traveling at up to 4 or 5 miles per hour. This means they are highly effective at preventing damage to your property. We encourage you to place them in the aisles of your facility and in front of any material handling equipment.
Heavy-Duty Construction – Our guardrails are made of high-tensile steel powder coated yellow, which gives them even more collision resistance and prevents them from corroding over time. When installing your guardrails, we also anchor each base plate firmly to the floor and bolt each piece together to make the whole structure as strong as possible.
Custom Options – We also offer several options to customize your guardrails for your specific needs. For example, you can choose from multiple rail lengths or add options such as offset columns, rail lift kits, or galvanized finish and other color options.
Quick Shipment- Our guardrail systems ship quickly from our warehouses across the U.S. to get to you quickly and ready to install.
Guardrail Stocking Locations: CMH has heavy duty warehouse guardrail in stock all across the US to quickly ship you guard rail protection fast and affordable.

Carolina Material Handling has guardrail stocking locations are in Georgia, Virginia, North Carolina, Florida, Indiana, Wisconsin, California, Illinois
Install team works quickly and efficiently.
"I've used CMH for several projects and have always had good experiences. They are fairly priced, show up when scheduled, and their install team works quickly and efficiently. I wouldn't hesitate to recommend them to anyone."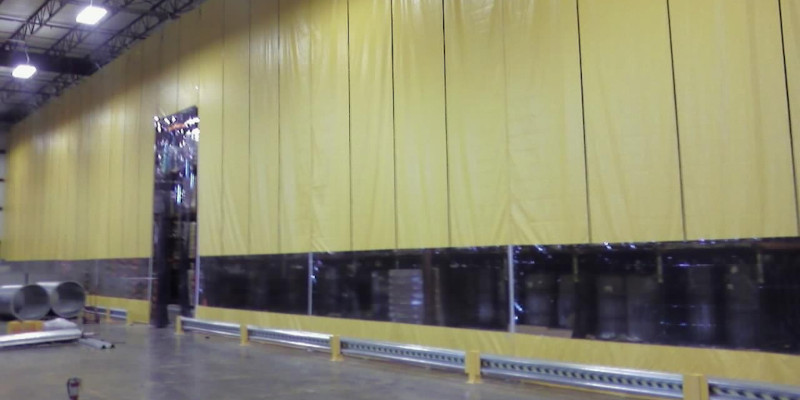 Curtain Walls
Curtain walls are a quick and easy way to section off a particular part of a warehouse, plant, or any type of workplace.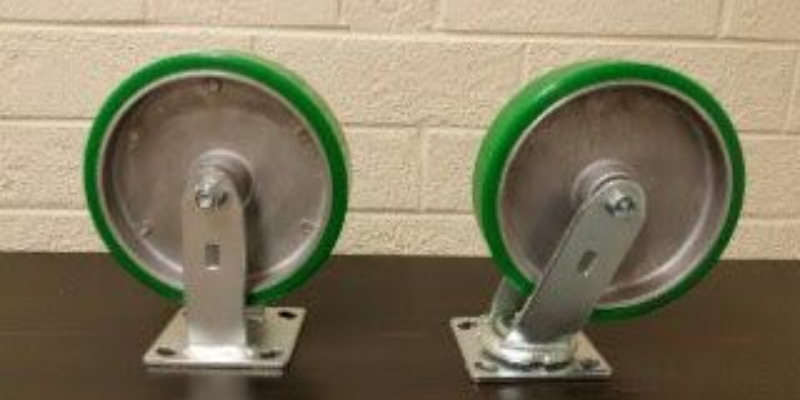 Casters
We offer a complete line of light-duty, medium-duty, medium-heavy-duty, general, v-groove and heavy-duty casters in many different sizes and load capacities.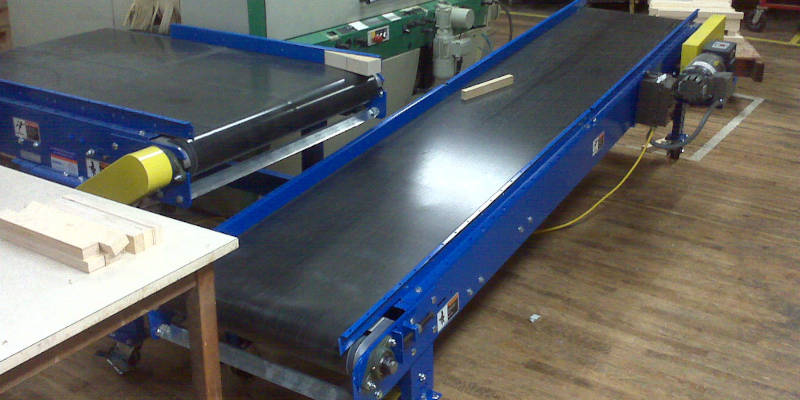 Conveyors
We carry ball transfer conveyors, belt conveyors, roller conveyors, skate wheels, and conveyor stands.
If you want to learn more about our guardrails, we encourage you to give our team a call as soon as possible.
---
At Carolina Material Handling Inc., we supply guardrails to businesses in North Carolina, South Carolina, Tennessee, Florida, Indiana, Wisconsin, California, Illinois, Virginia, and Georgia.
Why Choose Carolina Material Handling Inc.?
At Carolina Material Handling Inc., we carry a wide range of products for commercial, industrial, and institutional facilities. These high-quality products will keep your facility organized and productive, so you can keep your business running as usual.
See what some of our satisfied clients are saying about our guardrails and other products.
We offer access to thousands of products from hundreds of suppliers.