We carry a variety of lift equipment to support your operations.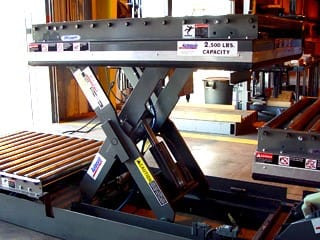 Looking for equipment to help lift oversized loads and maneuver objects too heavy for the unaided human? At Carolina Material Handling Inc., we offer many lift equipment options, including scissor lifts, ergonomic lifts and stackers. You have the choice between different weight capacities, platform sizes and shapes, and durability ranges. We are sure to have something that meets all your material handling lift equipment needs.
Pallet Positioners
With the P3 All-Around Pallet Positioner, building and breaking down pallet loads has never been easier. The unit raises and lowers automatically as boxes are added or removed from pallets. Workers don't have to bend or stretch to place boxes on the pallet. A turntable top can be added to allow the load lifts to be rotated, which eliminates the need for workers to walk around the pallet. Reducing bending, reaching, stretching, and walking around to a minimum helps reduce possible injuries and increase work speed and overall productivity.
Scissor Lift Tables
We offer the most proven and versatile lineup of lifts on the market today. Our lifts provide a high level of safety, quality, durability, and ease of use that is unsurpassed and perfect for numerous applications, from parts assembly/disassembly to pallet build-up and tear-down. To determine the type of lift you need, start by considering a number of factors:
The nature of the load, including the weight and type of material, the load's center of gravity, and its size.
How you intend to load the lift, whether by rolling, sliding, or placing on and off. Each of these methods comes with its own factors to consider to ensure safety for your workers and materials.
Load capacities (the amount of weight that an evenly balanced, centered load the lift can handle) and side/end loading capacities (the weight of the load over the edge when the lift is fully raised)
The vertical travel of the lift, based on raised height requirements.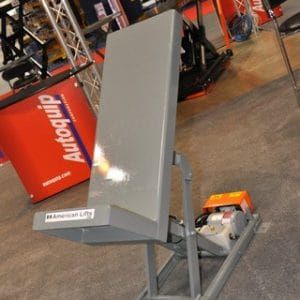 Tilt Tables
Our premium, easy-to-use industrial tilt lift tables, which are designed to handle load centering over the base frame while raising and lowering, excel in durability, safely, and minimum downtime. These tilt tables are ideal for material handling, bin loading/unloading, parts assembly/disassembly, roll handling, pelletizing, dumping, and load upending, allowing for the positioning of loads for easier handling.
Freight Lifts
Our freight lifts are the industry standard in vertical lifts and are ideally suited for multi-level applications requiring faster speeds and high cycle rates. Their high-capacity rollers, automatic re-pressurization and leveling systems, and free-fall arrest velocity fuses make them safer, more durable, and more stable for accessing mezzanines, basements, and other areas. And the reliable chain drive lifting system is designed to provide long life and trouble-free service.
Dock Lifts
With capacities up to 120,000 lbs., our world-class industrial dock lifts are designed to withstand rugged outdoor use. Each lift comes with anti-skid deck plates and beveled toe-guards for added safety, and the extra structural steel support allows the lift to hold up during repeated impact, concentrated wheel, and off-centered loading, as well as high rollover loads. All of our lifts meet or exceed the requirements of applicable national safety codes.
To learn more about our lift equipment, please contact us today.
---
At Carolina Material Handling Inc., we supply lift equipment to businesses in North Carolina, South Carolina, Tennessee, Florida, Indiana, Wisconsin, California, Illinois, Virginia, and Georgia.
Similar Services We Offer: