Curb Ramps
| PART # | DESCRIPTION | CAPACITY | WEIGHT | PRICE |
| --- | --- | --- | --- | --- |
| PKR-220 | 27″ Wide x 27″ Long Plastic Curb Ramp; Non Skid Surface | 600# | 9# | $99.00 |
Aluminum Dock Plates
| PART # | DESCRIPTION | CAPACITY | HEIGHT DIFFERENTIAL | WEIGHT |
| --- | --- | --- | --- | --- |
| A-3636 | 36″ Wide X 36″ Long X 3/8″ Thick Aluminum Dock Plate | 2,650# | 5″ | 68# |
| A-4836 | 48″ Wide X 36″ Long X 3/8″ Thick Aluminum Dock Plate | 3,550# | 5″ | 83#0 |
Dock Board
| PART # | DESCRIPTION | CAPACITY | WEIGHT | PRICE EACH |
| --- | --- | --- | --- | --- |
| AC6048 | 60″Wide X 48″ Long Aluminum Dock Board with Bolted On Steel Curbs | 10,000# | 169# | $1,169.00 |
| BC6048 | 60″Wide X 48″ Long Aluminum Dock Board with Bolted On Steel Curbs | 15000# | 204# | $1,487.00 |
Turn to us for high-quality dock equipment.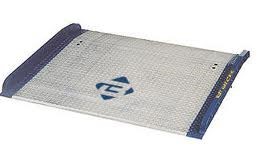 At Carolina Material Handling Inc., we provide a wide variety of dock equipment options. For over two decades, our customers have relied on us to provide safe, efficient dock loading equipment, and we are constantly adding new dock equipment options to our extensive product line. All of the equipment in our selection is reasonably priced, and some of the options in our lineup include dock boards, dock bumpers, lifts, lighting, dock plates, seal shelters, strip doors, and more.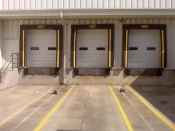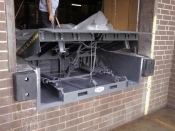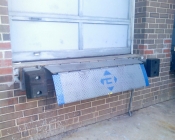 Here is a closer look at some of the dock equipment we offer that can contribute to the overall productivity and efficiency of your operations:
Edge-of-dock levelers—These levelers have up to 20,000 pounds of capacity and come with a self-storing handle, as well as bumper and bumper blocks. You position these levelers using a self-storing handle and then pull it to the dock floor. The latch assembly activates the lip forward to the floor of the trailer as the handle is lifted. When the truck leaves, the leveler automatically returns to its stored position.
Aluminum dock boards—These are ideal for low- to medium-volume dock loading applications and are typically used with pallet jacks and forklifts.
Dock plates—These plates come with hand slots or handles at no additional charge and beveled edges for a smooth entry and exit. These plates also feature an engineered bend, which keeps the plate flush with the dock and the truck, as well as safety locking legs, which allow for quick field repair. Additionally, these plates come with safety yellow tape for low light visibility.
Aluminum curb ramps—These are made of tough aluminum and come with a tread plate deck. We recommend these curb ramps for high traction because they feature a corrosion-free surface. These ramps are also easy to navigate, thanks to their light weight, and they are available in 10,000 to 15,000-pound capacities.
Dock bumpers and barrier protections—These are so strong that they can stop a forklift and so durable that they can sustain direct hits without compromising their structural integrity. Units can be combined to create custom lengths and configurations. We deliver these bumper and barrier protections fully assembled to your site, and you can easily install them with a removable core insert or base mount.
Lifts—The lifts we offer are manually propelled and allow for ground entry. With one of our lifts, you do not need outriggers or floor locks to secure the lift in place because electric interlocks come standard. These lifts will not block aisles, and they are easy to maneuver. The guard rails are also removable for easy unloading and loading.
Dock lighting—Proper lighting is essential for the safety of your personnel while working. Our goose neck lighting is perfect for both task lighting and dock lighting. These lights feature stainless arm bends for simple positioning, and they come with LEDs built directly into the housing.
Aluminum dock plates—These dock plates come with a 3/8 or 1/2-inch aluminum tread plate. The 1/2-inch steel locking legs are joined with vibration-proof fasteners, and they include strap handles for comfortable lifting. These dock plates are used in lighter capacity applications, while dock boards are usually used for heavier applications.
Dock seals—These low-cost seals offer unparalleled sealing action. Chemically sealed to keep moisture from getting in, these seals come with durable features and are designed for the highest energy savings possible.
Strip doors—These are made of vinyl to reduce fumes, drafts, dust, and noise. These doors increase worker productivity while conserving energy and come with full overlaps. We recommend strip doors for loading docks, plant passages, personnel doors, and freezers. The ribbed strips reduce scratching from friction, static, and general cargo traffic.
Whatever dock equipment your operation needs, we have the right solution. Contact us today to learn more about our dock equipment options in further detail and tell us about your current equipment needs.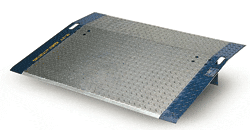 ---
At Carolina Material Handling Inc., we supply dock equipment to businesses in North Carolina, South Carolina, Tennessee, Florida, Indiana, Wisconsin, California, Illinois, Virginia, and Georgia.