View In Stock Pricing
Product
Part Number
Description
Price Each
Ships From

285A Drum Carrier

285A
Forklift Carrier for 22" – 23.5" Diameter 55 gallon drums. 800 lbs. capacity. Requires 25" between forks.
$1,325.00
Greensboro, NC and East Syracuse, NY

285A-HD Heavy Duty Drum Carrier

285A-HD
Forklift Carrier for 22″ to
23.5″ diameter 55-gallon
drum. 1500 Lb. capacity.
Requires 25″ between
forks.
$1,490.00
Greensboro, NC and East Syracuse, NY

86 Drum Lifter

86
Below-Hook Drum Lifter w/
under drum support. No tilt.
WEB STRAP secures
steel,poly,fiber 22-23.5″
dia. drum. 1000 Lb.
Capacity. Load test cert.
$451.00
Greensboro, NC and East Syracuse, NY

185A-HD Below Hook Drum Carrier

185A-HD
BELOW-HOOK KONTROLKARRIER
FOR 22″-23.5″
DIAMETER 55-GALLON
DRUM. GEARED TILT
CONTROL. 1500 Lb.
CAPACITY. SHIPS WITH
LOAD TEST CERT.
$1,250.00
Greensboro, NC and East Syracuse, NY

201/20-1 Drum Roller

201/20-1
PORTABLE DRUM
ROLLER, ROLLS
55-GALLON DRUM AT 20
RPM, 1-PHASE 115V
MOTOR. (OSHA
REQUIRES ENCLOSURE
WITH SAFETY
INTERLOCK)
$2,415.00
Greensboro, NC and East Syracuse, NY
290F
GRIP+GO FORK
MOUNT,12V DC POWER
GRIP & INVERT
FORWARD 14″-24″ DIA.
DRUM. 1500 Lb.
CAPACITY. REQUIRES
25″ BTWN FORKS.
INCLUDES BATTERY &
CHARGER.
$9,905.00
Greensboro, NC and East Syracuse, NY
81
DRUM SPOTTER TO
PALLETIZE 55-GALLON
RIMMED DRUM ON 6″
MAX PALLET HEIGHT.
HANDLE 22-23.5″
DIAMETER, 34-36″ TALL
DRUM. 800 Lb.
CAPACITY.
$1,705.00
Greensboro, NC and East Syracuse, NY
160
4-Wheel Drum Truck to
handle 30, 55 or 85 gallon
rimmed steel, poly or fiber
drum. 1000 Lb. capacity.
$620.00
Greensboro, NC and East Syracuse, NY
160-SS
4-Wheel Drum Truck to
handle 30, 55 or 85 gallon
rimmed steel, poly or fiber
drum. 1000 Lb. capacity.
1,550.00
Greensboro, NC and East Syracuse, NY
4556-P
KIT: MORCINCH Bracket
to prevent RIMLESS or
RIMMED plastic drum from
slipping. Adjust for 31″-39″
tall drum. NOT a complete
drum handler. Works well with the 285A series drum carrier.
$232.00
Greensboro, NC and East Syracuse, NY
View Pricing for Hydra-Lift Drum Rotators
| Product No. | Description | Motor | Phase | Volts | Wt. (lbs.) | Price Each |
| --- | --- | --- | --- | --- | --- | --- |
| H456-1 | Drum Roller | TEFC | 1 | 115 | 579 | $7,100 |
| H456-3 | Drum Roller | TEFC | 3 | 230 | 579 | $7,200 |
| H456-E1 | Drum Roller | Explosion Proof | 1 | 115 | 584 | $7,825 |
| H456-E3 | Drum Roller | Explosion Proof | 3 | 230 | 586 | $7,970 |
| H456-A | Drum Roller Includes Control Package | Air Motor | – | – | 622 | $6,920 |
| HCP-456-1-115 | Control Package For H456-1 | – | – | – | 100 | $2,335 |
| HCP-456-3-230 | Control Package For H456-3 | – | – | – | 100 | $2,040 |
| HCP-456-E1-115 | Control Package For H456-E1 | – | – | – | 140 | $3,300 |
| HCP-456-E3-230 | Control Package For H456-E3 | – | – | – | 140 | $3,835 |
| HGEK-456-1 | Guard Enclosure Kit Use with H456-1 | – | – | – | 375 | $3,565 |
| HGEK-456-3 | Guard Enclosure Kit Use with H456-3 | – | – | – | 375 | $3,550 |
| HGEK-456-E1 | Guard Enclosure Kit Use with H456-E1 | – | – | – | 375 | $4,030 |
| HGEK-456-E3 | Guard Enclosure Kit Use with H456-E3 | – | – | – | 375 | $3,790 |
| HGEK-456-A | Guard Enclosure Kit Use with H456-A | – | – | – | 375 | $4,090 |
Drum Rotators / Drum Rollers / Drum Turners Hydra-Lift Drum Rotators (456 Series)
Our Morse Hydra-Lift Drum Rotators lift and roll your closed drums to mix and blend contents. The built-in hydraulic system lifts drums from floor level and place tnem quickly and easily for rotation on the drum turner.
The are developed to provide "hands-off" drum handling and mixing. These drum rotators will help you save time, money, and labor with easy, ergonomic loading and unloading and by eliminating many of the hazards of manual drum handling.
Benefits of mixing inside closed shipping drums
Roll drum to remix settled ingredients
Eliminate transfer, clean-up, and special vessels
Use separate drum for each batch
No container to purge between batches
Nothing to insert into drum to mix"
Hydra-Lift Drum Rollers are Easy to Load by Hand Truck or Hoist
Hydra-Lift Drum Rollers accept a steel drum in upright position at floor level (add Option POLY-456 to roll a plastic drum). You control the hydraulic powered drum tilt to lift the upright drum and place it down on drum rotator wheels. Start and stop drum rotation with a second control. You control the drum rolling speed. A 55-gallon (210 liter) drum can be rolled from 5 to 20 RPM (4 to 16 RPM on 50Hz models) as desired to thoroughly mix drum contents. Then return the drum to vertical to unload.
Drum Rotator Capacity:
1,000 Lb. (455 kg) Liquid load
400 Lb. (182 kg) Dry load. A shifting dry load exerts greater stress on the drum rotator than the fluid motion of a liquid load.
Roll steel drum: 6″ to 26″ (15 to 66 cm) diameter, maximum 40″ (102 cm) length
To roll a plastic drum, add Option # POLY-456
We offer efficient, reliable drum handling equipment to help you increase your workplace safety and productivity.
If your business requires the moving, storing, and pouring of drums, the proper equipment can make a huge difference in your bottom line. Using the right drum handling equipment will also improve workflow and worker safety.
Our team at Carolina Material Handling Inc. has extensive experience in providing a wide variety of industrial equipment, including drums and drum handling equipment. We encourage you to consider the benefits and features of the different types of industrial material handling equipment to find the right items for your needs.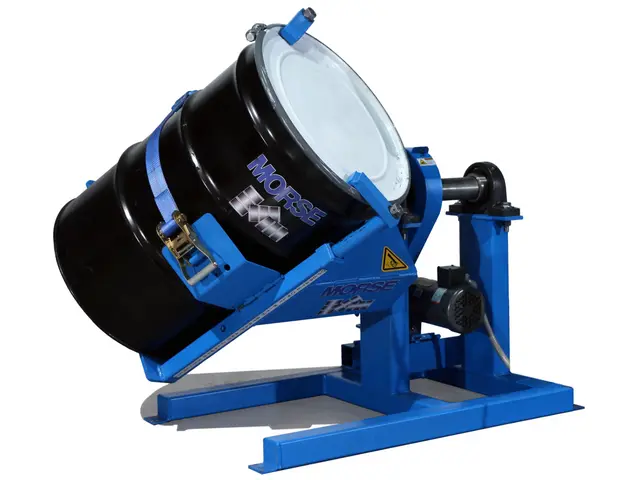 The benefits of our drum handling equipment include:
Safer workplace – Full drums are heavy and often filled with hazardous liquids. This makes it difficult for workers to move them manually, as attempting to do so can lead to injuries, accidents, and spills. Using the proper drum handling equipment makes the work easier, which protects employees and creates a safer workspace.
Greater efficiency – Drum handling equipment makes moving and pouring drums much easier. When workers don't have to struggle through the handling of drums, it means they can do the job faster and get more done in the same amount of time.
Increased productivity – When workers are able to handle drums easily, more work is completed at a faster rate. You can expect a significant increase in productivity, meaning your business can produce more and accomplish more during the workday.
Monetary gains – Your business will be more profitable because of all of the above. Greater efficiency, increased productivity, and avoiding worker injury all allow you to save money and make more money for your business.
If you have questions about our drum handling equipment, just give us a call to learn more.
---
At Carolina Material Handling Inc., we supply drum handling equipment to businesses in North Carolina, South Carolina, Tennessee, Florida, Indiana, Wisconsin, California, Illinois, Virginia, and Georgia.