Rivet shelving is highly customizable, which makes it a great choice for any facility.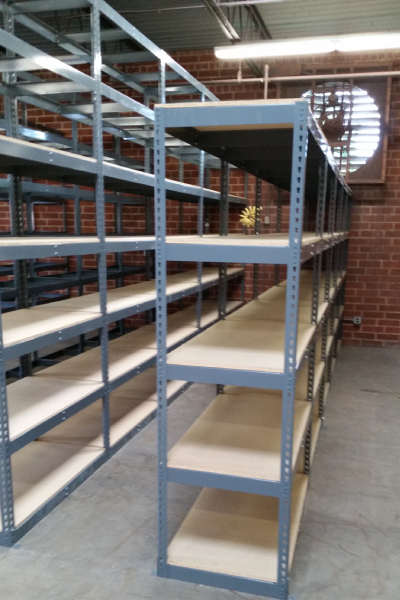 We at Carolina Material Handling Inc. aim to be your one-stop shop for material handling solutions. Our team supplies a wide variety of industrial, commercial, and institutional equipment, including conveyors, lifts, pallet casters, and much more. We can also help you outfit your facility with storage infrastructure such as shelving, giving you an effective way to organize and access your materials, tools, and products.
One of the most functional storage methods available is industrial rivet shelving. Each unit is made of just a few standard parts, and it can be assembled quickly and easily with only a few standard tools. This type of shelving is ideal for industrial applications due to its strength, as each unit has a weight capacity of up to 1,850 pounds per shelf level. In addition, rivet shelving offers so many versatile solutions for a lot of shelving applications, since the shelf levels are adjustable at 1-1/2″. You can configure your shelves in any way you want to keep your items organized logically.
The rivet shelving system is an easy unit to install. This shelf offers adjustable levels with front-to-back support bars, which allow for even weight distribution across the unit and prevent it from leaning. If you have questions about our rivet shelving units, we encourage you to give us a call—our team will be happy to answer your questions and help you figure out if this option is the right choice for your facility's needs.
---
At Carolina Material Handling Inc., we supply rivet shelving to businesses in North Carolina, South Carolina, Tennessee, Florida, Indiana, Wisconsin, California, Illinois, Virginia, and Georgia.