Increase floor productivity with a modular office.
In need of an office solution for your warehouse but don't have a lot of space? Consider a modular office, in-plant office, or mezzanine. At Carolina Material Handling Inc., we have several options that are sure to solve your space problem for a price you can afford.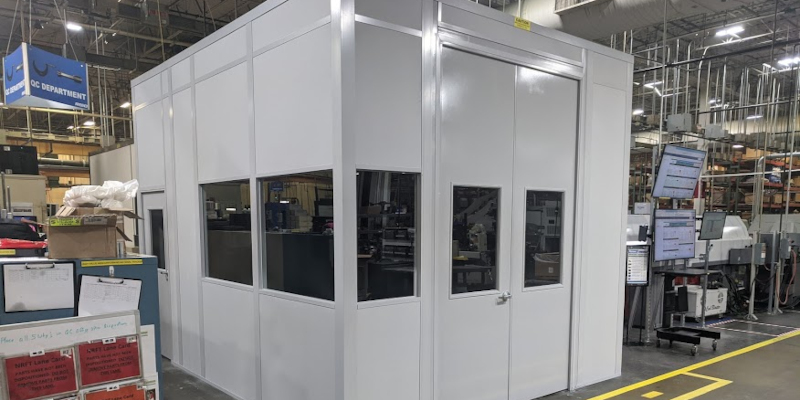 Modular offices offer many advantages to conventional construction, such as flexibility and affordability. Not only are modular buildings prefabricated, which offers temporary structure that is quick to install, but they are also very durable and great for a variety of applications, including portable shelters, mobile offices, security shacks, ticket booths, clean rooms, and construction projects that can include one office to multiple-story office systems. Modular offices can also be used as a permanent solution for office and in-plant warehouse applications.
A big benefit to purchasing a modular building for your facility is that it can be moved or modified at any time without complication. The design flexibility of our modular offices allows for custom layouts that are best-suited for your needs. In-plant offices allow managers and other staff members to have easy access to the operational floors. The increased exposure enhances overall communication, which in turn improves productivity.
Our modular systems are very easy to assemble and can be completed in less than half the time of conventional construction. When your in-plant office is constructed fast, you can get back to work quicker, too.
Our modular offices are made with high-quality materials that establish a quiet and comfortable work area, even in harsh work environments. All materials used to create your office are also reusable so that you may move or have your office redesigned easily by us if your needs change.
Whether you need a modular building, in-plant office, portable office, or mezzanine, we can help. We not only provide design services, but can also install your new flooring or warehouse office. Contact us today!
---
At Carolina Material Handling Inc., we supply modular offices to businesses in North Carolina, South Carolina, Tennessee, Florida, Indiana, Wisconsin, California, Illinois, Virginia, and Georgia.