We sell and service a variety of equipment and products for greater facility efficiency.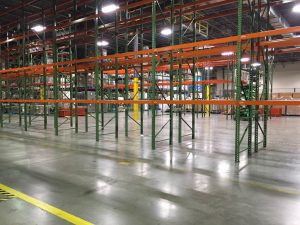 At Carolina Material Handling Inc., we are your material handling supplier, whether you run a commercial, industrial, or institutional facility. With our products, we will help you lift, move, and store more product using the space you already have. Our range of products includes pallet racking, wire decking, casters, conveyors, lift equipment, modular offices, wire cages, partitions, warehouse safety guardrails and much, much more. Talk to your sales representative to request a quote and get advice about the best products for your facility and objectives.
We also offer service and preventative maintenance for all makes and models of equipment. If we sell it, we service it! The failure of any industrial system can create critical time-sensitive issues. If not resolved quickly, these can lead to costly delays for you and your customers. Our professional, OSHA-certified technicians have the experience and expertise to resolve your issue and have you back in business quickly.
Our sales team is ready to respond to your warehouse storage rack repair needs all year long. With a wide range of pallet rack safety products and rack relocation services, your facility will experience unrivaled efficiency and productivity in your warehouse and distribution center.
Get the most out of your material handling products with our service, expertise, and recommendations. To request a quote or learn more about the products in our selection, reach out to us today. Your productivity is our priority!