At Carolina Material Handling Inc., we have extensive experience in warehouse design, and we offer a variety of products to help you optimize your facility. Our approach to warehouse design includes a strong commitment to safety, and all our racking systems and other products are made to adhere to strict safety standards. In this article, we'll focus on one of our most important safety products: our heavy-duty warehouse safety guard rail. Keep reading to learn more about why you need this product and how it will protect your workers.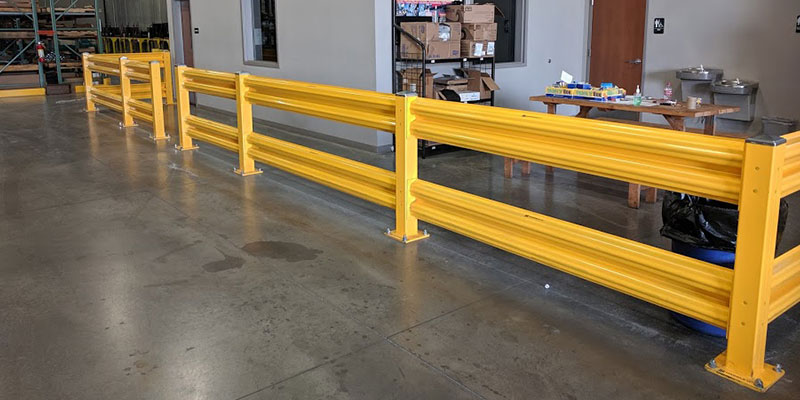 The purpose of our heavy-duty warehouse safety guard rail is to separate work areas from forklift driving lanes. Although forklifts don't move very fast compared to cars on the road, they carry heavy loads, which means a collision will create enough force to do serious damage. Our guard rails have been tested to withstand impacts with loads of up to 10,000 pounds moving at up to 4 miles per hour, so they will go a long way toward protecting your workers and racking systems from forklift crashes.
Our heavy-duty warehouse safety guard rail is made of high-quality ASTM A1011 steel, and it is designed to provide maximum strength and stability. Each vertical column supporting the horizontal rails consists of a 4.75" x 4.75" square tube mounted to a 10" x 10" baseplate, which keeps the whole construction firmly in place.
Lastly, our heavy-duty warehouse safety guard rails are designed to maximize visibility. They are powder coated with high-quality, highly visible yellow paint to make sure forklift operators clearly see them while they are driving. This minimizes the chances of a collision occurring in the first place.