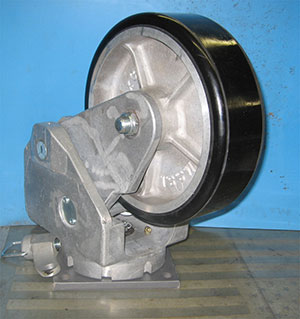 We carry several different types of casters at Carolina Material Handling Inc. If you need casters to run your operation and enhance your equipment, we are your source for high-quality casters at a competitive price.
If you currently need new casters, here is a closer look at some of the different ones we carry:
Light-duty casters—If you have an application that requires minimal capacity, one of our light-duty casters may be the right fit. These casters are affordably priced, offer great mobility, and come with a variety of fasteners. We recommend our light-duty casters for use with furniture, medical equipment, retail displays, racks, ladders, and more.
Medium-duty casters—Our medium-duty casters are likely our most widely used type of casters. Available with over 30 wheel options, these casters can be used on dollies, hand trucks, carts, and more.
Heavy-duty casters—Our heavy-duty casters offer the highest level of endurance and are used in demanding applications where traditional casters will not work. We recommend this type of caster for applications required to carry up to 2,000 pounds. These casters are nearly indestructible and offer ergonomic, smooth swivel action.
If you aren't sure which type of casters you need for your operation, we are more than happy to provide advice and guidance. To speak with one of our representatives about which type of casters you need, or to place an order, reach out to us today.